Adorable Guardsman Bear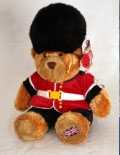 Adorable Pennyhill Park Guardsman Bear
Pennyhill Park, an Exclusive Hotel and Spa
£35.00
Overview
Our infamous Guardsman bear, representing the famous personal bodyguards of the Queen, will put a smile on anyone's face with its traditional red jacket.
Your Guardsman bear will be dispatched directly from Exclusive Hotels.
If you do not receive your item within the next few days, please contact a member of our team on the details below.
This price includes special delivery postage and packaging.
Validity
Valid for 12 months
Terms & Conditions
Please contact a member of our team for terms of purchase.